What does the future hold for blockchain's legal aspects? Discussion of crypto experts at Blockchain & Bitcoin Conference Philippines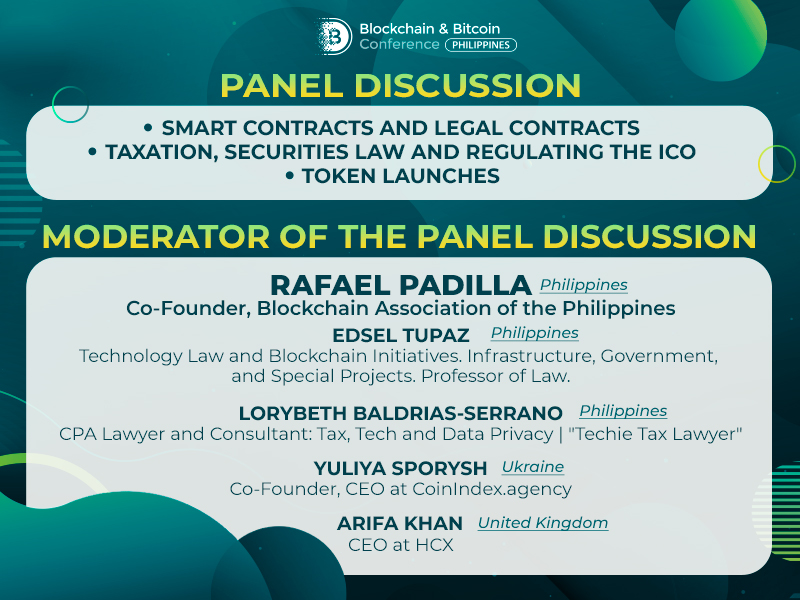 A panel discussion dedicated to smart contracts as well as a legal status of ICO and tokens will be part of Blockchain & Bitcoin Conference Philippines scheduled for December 6.
Can taxation be put to blockchain? What is lawyers' opinion over ICO and smart contracts? How to meet GDPR conditions? How will the blockchain industry be regulated in the future? What is asset tokenization and what is its legal status? These and other issues will be addressed by the leading fintech and legal experts from across the globe:
Rafael Padilla (moderator), Founder at Blockchain Association of the Philippines;
Edsel Tupaz, Partner at ​Gorriceta Africa Cauton & Saavedra, an international law firm based in Metro Manila, Professor of Law;
Lorybeth Baldarias-Serrano, CPA Lawyer and Consultant with a 16-year experience in commercial law, tax management, business development, and data privacy consulting;
Yuliya Sporysh, Co-Founder, CEO at CoinIndex.agency;
Arifa Khan, India Partner of the Ethereum Foundation, CEO at HCX.
---
Register to Blockchain & Bitcoin Conference Philippines to find out more about legal nuances in the crypto industry.
Meet new speakers and key news of the conference