Concept of Airdrop: cryptocurrencies without investment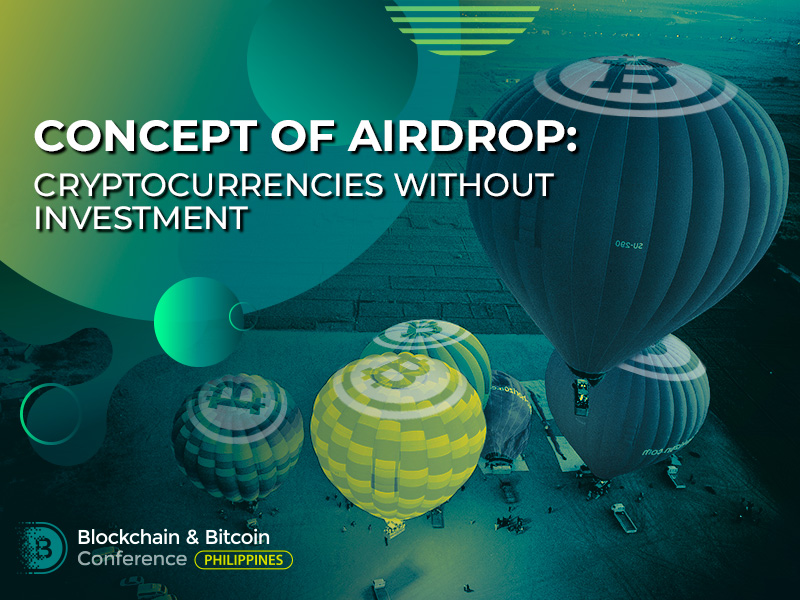 Distribution of Airdrop tokens is a marketing strategy helping to spread information about coin, product, or exchange. It also allows to earn on cryptocurrencies without spending money for their purchase.
What is Airdrop?
Airdrop means cryptocurrencies that a certain project gives to users for free. At first sight, it sounds like fraud or fake. But do not underestimate this opportunity to earn: depending on token distribution conditions, you can gain profit almost out of thin air. Besides, users won't run any financial risks.
Airdrop advantages:
you can receive a cryptocurrency at no cost, which can eventually go up in price (depending on project prospects);
risks and efforts are minimized: to obtain Airdrop as a reward, you should frequently make a couple of reposts and press several buttons;
the Airdrop project yields results faster than cryptocurrency faucets.
Airdrop, as a way of project promotion, is similar to a bounty campaign, but they have some differences. For example, Airdrop requirements are simpler than bounty ones in terms of knowledge and time costs. However, a reward for participation in Airdrop will be lesser than in bounty projects. A free distribution system is rather additional than principal earnings.
Cryptocurrency can fail, or you can face a situation similar to the one happened with the user becoming a Polymath coin owner in 2017. Subsequently, his savings were equal to $300.
Why projects give away tokens
Airdrop strategy helps to promote a project (any, even a cryptocurrency one) and circumvent a ban on its direct advertising on social media. Project tokens are often given just before an ICO, with the Airdrop increasing a potential value of coins.
The Airdrop allows to:
promote tokens and establish a huge database of active users;
create a network effect and distribute tokens as wide as possible (as well as its information);
attract investments and expand the project.
The Airdrop is profitable for projects as a marketing tool for improving brand awareness and rapidly collecting the user database. Besides, it is a convenient alternative way to disseminate coins when ICO launching is impossible (for instance, for popular projects that have already received funds from private investors).
How to participate in Airdrop
Tokens for project promotion are given free of charge: to get them, you should just perform several simple conditions:
users should have accounts on key social networks such as Telegram, Twitter, Facebook (you should not necessarily have thousands of subscribers, unlike bounty project requirements);
you do not always have to use accounts on additional social media, but sometimes profiles on Youtube, Reddit, or Linkedin are needed;
a personal email address;
a cryptocurrency wallet (ERC20 standard), which supports Ethereum and is not bound to any exchange.
To inform users of the Airdrop start, one applies the same channels and methods as during ICO launching. Ads are published on BitcoinTalk and other well-known crypto forums; an announcement is published on platforms collecting information about cryptocurrency projects.
You can discover about coming and current Airdrops using special resources like:
These aggregators also check whether the project is legally and correctly arranged, as well as whether it will be financially reliable. Such special platforms as Earn.com provide an opportunity to register for participation in many Airdrops.
Types of Airdrops
There are three types of Airdrop projects: they differ in conditions for receiving free tokens. The first one will be appropriate for those familiar with cryptocurrencies and storing some cryptocurrency on their wallets. The rest ones are simpler and will be convenient for those exploring the crypto market.
Airdrop for coin holders. Free tokens are given to existing owners of cryptocurrencies, e.g. Bitcoin. Users have to do nothing but hold a certain cryptocurrency. Bitcoin owners obtained Bitcoin Cash for free during another Bitcoin fork: the sum was equal to the amount of bitcoins on user accounts.
Conventional Airdrop. You should subscribe to the news on the project website or in the social media page. To sign up, you should just create a nickname and enter your email address. Important! If users are subscribed to, for example, the project's Telegram channel, they are not allowed to unsubscribe until the end of ICO (otherwise, tokens won't be charged).
Encouraging Airdrop. Tokens are given to users as a reward for reposts on social media, likes, and other actions aimed at project promotion. Typically, you should sign up on a certain resource, become a forum participant, or leave a feedback. Moreover, everyone interested is able to obtain a cryptocurrency. Your advantage will be active accounts, a lot of subscribers, including the project's target audience (people engaged in cryptocurrencies).
How to get and withdraw tokens
The standard time for receiving tokens on your account is one or two months after the end of Airdrops. This is because they are often conducted alongside with token sales and rewards are not charged until sales are over.
A wallet account can be examined on Etherscan. You should just enter your ETH address in the search field. If tokens are charged and available, they will be shown on the current account.
Tokens can be withdrawn using such services as My Ether Wallet (MEW). To this end, you should obtain an access to the wallet via MetaMask, Ledger Nano, or in any other similar way, and choose tokens you need to withdraw.
Afterwards, tokens can be placed on the exchange and sold. You can also hold on to them for a while (half a year) or keep them for a long period from six months (expecting that cryptocurrency will go up in price).
How to avoid fraud
In 2017, Airdrops were carried out, in average, twice per month. Now, they take place five times per day. Thus, there is a great deal of swindlers in the Airdrop sector, desiring to earn on green users. Therefore, you should be patient and careful while participating in giveaways.
You should thoroughly check the website address and watch out, entering your personal data. The data should not contain any private keys, passwords, and seed phrases that can be used by criminals. Any private information left on unverified websites makes wallets and accounts more vulnerable to attacks.
Trying to deceive users, hackers apply social engineering methods or common viruses, allowing to steal money from accounts. Searching for a promising Airdrop, one can face phishing websites or pyramid schemes.
How to protect yourself from swindles:
check information about Airdrops in various sources and on specialized forums;
never transfer private keys to third parties;
install an efficient antivirus solution;
never send your identification data anywhere.
Other ways to obtain free tokens
Airdrop is not the single way to receive cryptocurrencies. Here are several other methods to earn some tokens.
Fulfilling tasks. There are websites where users complete tasks of various complexity and get bitcoins in return. For example, Btc4ads: a free resource providing an average reward sum of 12 Satoshi for watching 5-second video.
Dividends. If users have some cryptocurrencies, they can earn on lending. Certain resources unite creditors and those requiring cryptocurrencies as soon as possible. Creditors give their cryptocurrency to other person and then receive the sum with interest back. To avoid swindlers' tricks, you should use verified platforms.
Mining. This method is not commonly available now because of requiring a certain number of computing equipment. Cryptocurrency mining is not a free way, as you should pay for electricity and constantly upgrade hardware and software. To realize whether this method is appropriate for you, you can try to mine in the cloud by leasing computing equipment from a reliable company.
Conclusion
To start earning on cryptocurrencies and taking the first faltering steps in this sector, you should not necessarily buy tokens. You can understand cryptocurrency market processes, try various ways of multiplying capital, and test wallets without any investments.
Besides, methods of receiving free tokens can become subsidiary earnings for those who have been long working with cryptocurrency assets.
Other ways of obtaining cryptocurrency without investments are described in a separate article.
---
Digital coins and blockchain technology will be discussed at the Blockchain & Bitcoin Conference Philippines.
Meet new speakers and key news of the conference