CEZA Administrator Raul L. Lambino Will Open the Blockchain & Bitcoin Conference Philippines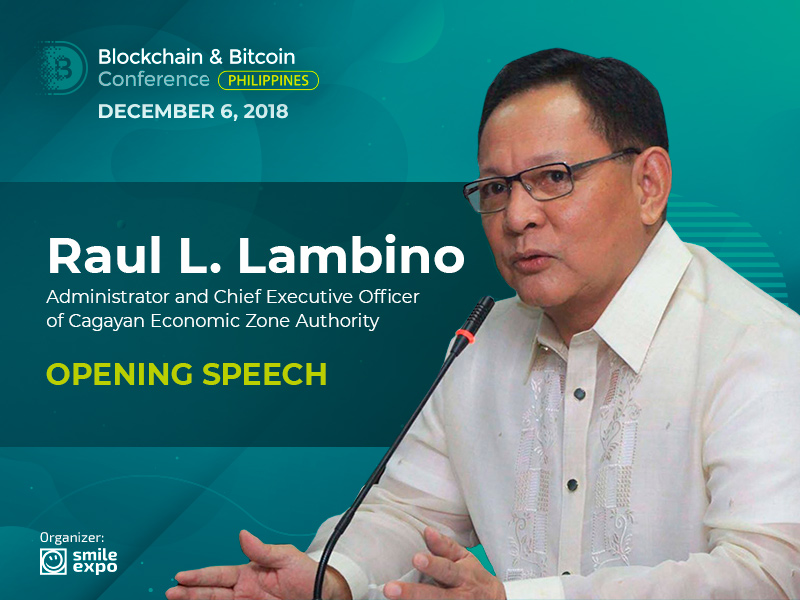 The Philippines is actively working on the development and enlargement of DLT and crypto. In October 2018, the country has officially let 19 more crypto initiatives start their operations.
The licences to crypto companies are issued by the Cagayan Economic Zone Authority (CEZA). On December 6, the administrator and CEO of CEZA Raul L. Lambino will open the Blockchain & Bitcoin Conference Philippines and deliver a welcoming speech.
Raul L. Lambino is the CEO and administrator of CEZA appointed by the Philippine President Rodrigo Roa Duterte in July 2017.
The expert has around 20 years of experience working as the reviewer and lecturer in Remedial Law and Political Law.
Apart from that, he is the experienced lawyer and the managing director of Lambino Law Firm, organization working with corporate and litigation cases.
The expert has had a position of the chief of staff to Senator Loren Legarda – Filipino politician. Since 2001 to present, he serves as the consultant in both Houses of Congress to some Senators and Congressmen.
He became nationally prominent when he successfully convinced the High Court that it is possible to reform the 1987 Philippine Constitution.
Raul L. Lambino was also endorsed to run for a Senate seat in the mid-term May 2019 elections by the Hugpong Federal Movement of the Philippines (HLMP), a grassroots movement campaigning for a federal form of government.
---
Listen to the speech of the CEZA CEO at the conference!
Meet new speakers and key news of the conference