Successful Presentation of ICO Project: Explanation from Dushan Spalevich, ICO TV Founder & Host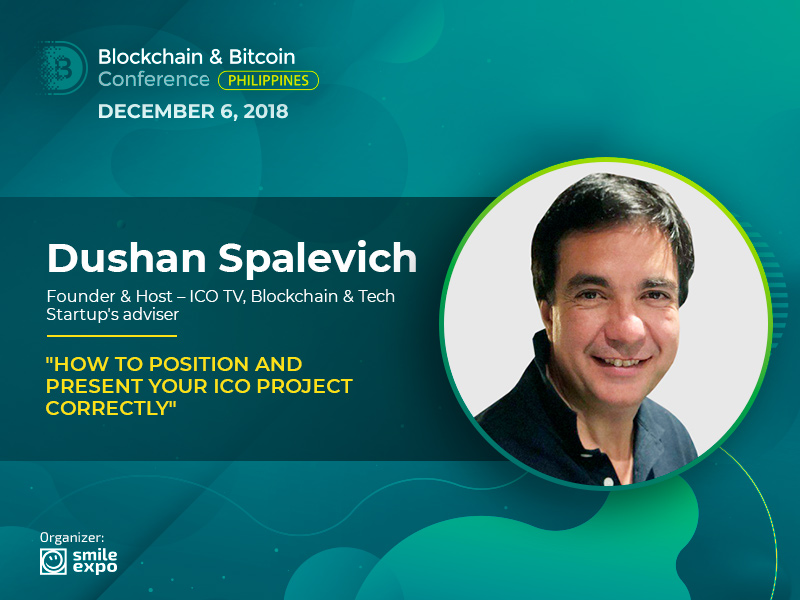 Numerous DLT-based startups launch ICO projects with the aim to get capital for the future development. Apart from keeping in mind all the legal aspects of launching an ICO, it is important to think about the token sale's presentation.
The issue will be discussed at Blockchain & Bitcoin Conference Philippines on December 6. Dushan Spalevich, Founder & Host of ICO TV, will deliver the presentation: How to position and present your ICO project correctly?
Key points:
how success of the project depends on the presentation;
how to describe the idea in three simple sentences;
orientation towards the consumers and their needs rather than technologies;
main characteristics of the project and how many of them are needed;
why to monitor competitors and run trials.
Dushan Spalevich is a token sale expert, businessman and entrepreneur with experience in different countries.
He is the founder and host of ICO TV, a world's leading blockchain & tech startups' interview YouTube channel.
Guests of the channel are the representatives of DLT-based startups. They show their ideas and introduce the team in order to find investors. Projects' presentations are done during the interview with the expert.
Moreover, the speaker is the DLT and technology startup adviser. For instance, he provides consultations in EMMARES – an email marketing DLT-based evaluation system.
Besides, the specialist holds a position of adviser at Kimera Systems, an AI company that has developed the Artificial General Intelligence (AGI). The company is getting ready for the ICO to raise funds and bring the new technology to the world.
---
Learn more about how to present ICO projects from the expert at the conference!
Meet new speakers and key news of the conference