Co-Founder of BAP Rafael Padilla – the Moderator of the Panel Discussion About Smart Contracts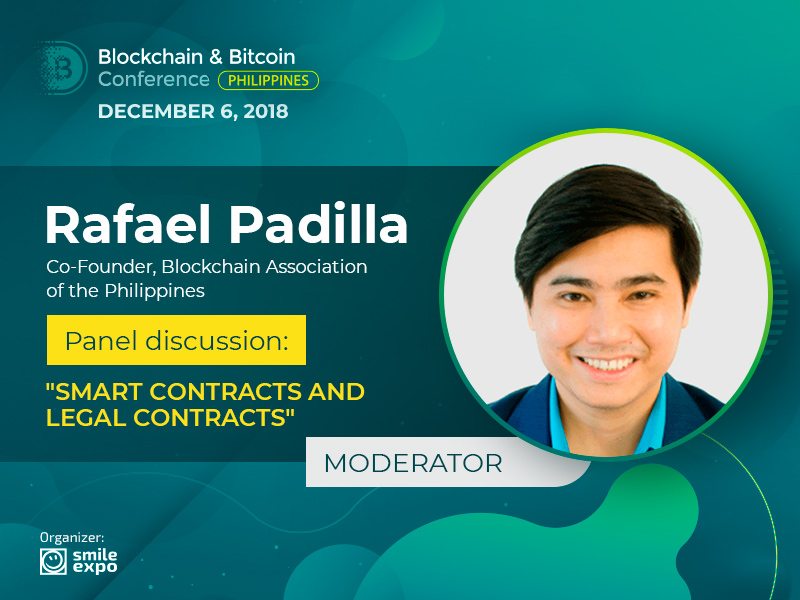 Today, a lot of companies integrate self-executing contracts into their work. The aim is to raise the level of trust between business parties and increase the efficiency of the processes related to deals. But can smart contracts be an equal substitute to traditional legal contracts?
The question will be addressed at the Blockchain & Bitcoin Conference Philippines on December 6. Co-Founder of the Blockchain Association of the Philippines Rafael Padilla will moderate the panel discussion titled "Smart Contracts and Legal Contracts."
Rafael Padilla is an expert in DLT with the background in legal exercises most relevant to financial technology firms.
Currently the expert is a co-founder of the Blockchain Association of the Philippines (BAP) – the organization aiming to provide education about the DLT's potential and connect crypto businesses in the country.
Apart from that, he works with corporate governance, legal audit and securities compliance, typically dealing with offshore law firms.
Also, the specialist drafts domestic and international agreements for multi-phase projects and for stand-alone transactions.
He is the advisor on financial services compliance, AML, KYC, CDD concerns and SAR. Moreover, he provides consultations on collective investment schemes, fund formation and structuring.
The speaker is a successful analyst of tax reforms, therefore, he assists projects with onshore and offshore tax planning and structuring based on the tax rules in the Philippines and international tax treaties.
---
Learn more about the self-executing contracts during the panel discussion!
Meet new speakers and key news of the conference