Co-Founder and CCO at Satoshi Citadel Industries Miguel Cuneta: When DLT Is Not Needed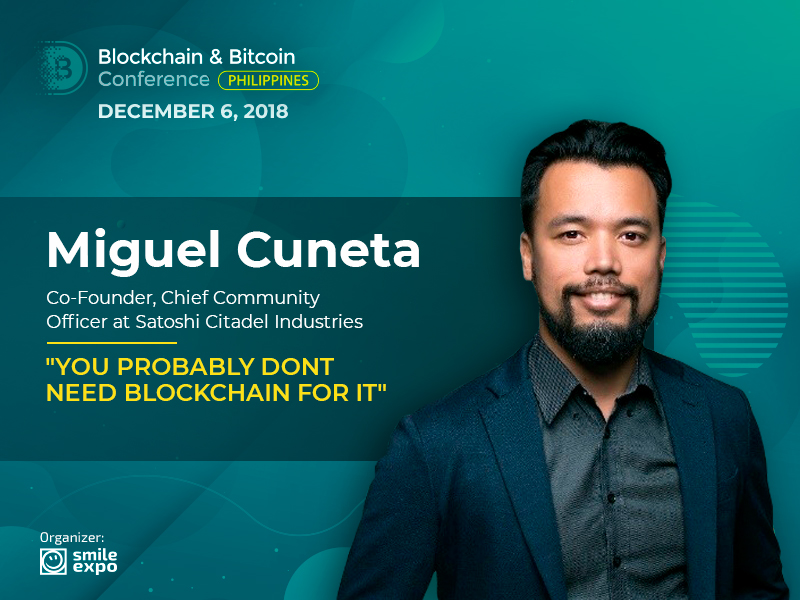 DLT is actively being integrated into many businesses from various industries. To keep up to date, companies apply the technology with the aim to improve their processes, however, there are cases when DLT is not really needed.
The topic will be discussed at the Blockchain & Bitcoin Conference Philippines on December 6. The Co-Founder and CCO at Satoshi Citadel Industries Miguel Cuneta will deliver the presentation "You Probably Don't Need Blockchain For It."
Key points:
not all businesses need blockchain;
factors to consider before joining blockchain;
when blockchain is not needed and regular database is enough.
Miguel Cuneta is the DLT and BTC expert since early 2013. He is one of the establishers of the Satoshi Citadel Industries (SCI Ventures) where he currently has a position of CCO.
SCI Ventures is the major fintech company building a DLT ecosystem in the Philippines. SCI provides products which help to process payments, make investments and manage mobile money.
The company's offers include platform for BTC payments Rebit, mobile wallet Bitbit and BTC exchange BuyBitcoin.
The expert is also one of the founders of the Bitcoin Organization of the Philippines, a non-profit SEС-registered corporation that aims to promote and protect the industry.
More than that, the expert regularly appears in print and online media with the aim to provide education about the technology. Among his contributions there is the article "Bitcoin Is Not What You Think It Is" for publishing platform Medium and the interview for Bloomberg TV Philippines.
---
Learn more about the use of DLT in different businesses from crypto expert at the conference!
Meet new speakers and key news of the conference