Blockchain for remittance businesses. Report of entrepreneur and author Luis Buenaventura at Blockchain & Bitcoin Conference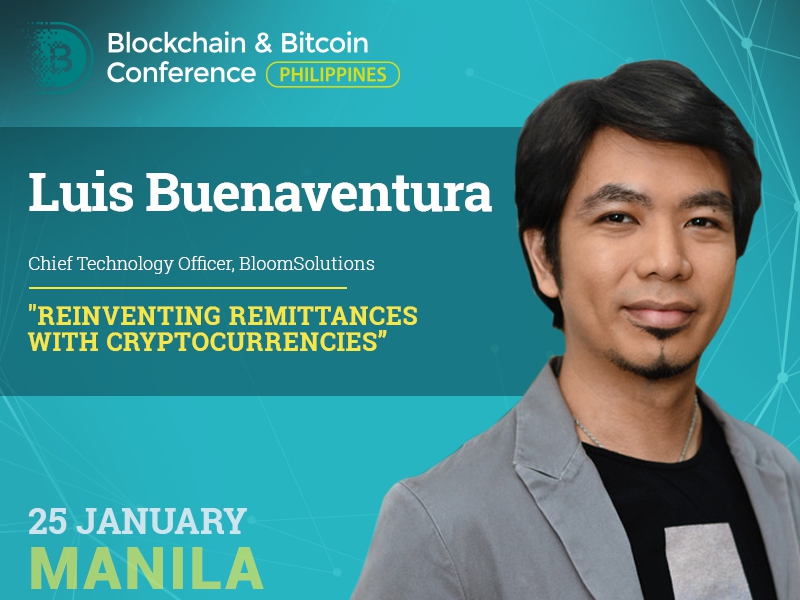 How to build a blockchain-based software for remittance businesses and integrate decentralized technology for either international settlement or nationwide disbursement? Blockchain entrepreneur, Chief Technology Officer at BloomSolutions Luis Buenaventura will answer these questions at Blockchain & Bitcoin Conference Philippines.
"Cryptocurrencies have long been lauded as an instant solution for cross-border money transfer, and since 2013, young startups around the world have been working in this sector of the industry," Luis Buenaventura states.
"Although Bitcoin was the original vehicle for all these new remittance companies, there has been enough innovations in the space since then, and now several blockchains and cryptocurrencies are vying for attention and usage," the expert adds.
Participating in Blockchain & Bitcoin Conference is the opportunity to learn about Bitcoin solution and compare it with other blockchain contenders within the $1 trillion remittance market.
Luis Buenaventura is the entrepreneur, author of the book "Reinventing Remittances with Bitcoin." His writing has been featured on Techcrunch, Quartz, The Next Web, Tech in Asia.
Don't miss the expert's report "Reinventing Remittances with Cryptocurrencies" at Blockchain & Bitcoin Conference Philippines!
Meet new speakers and key news of the conference