Banking Sector and Blockchain – Arvie de Vera, Head of Fintech at UnionBank, Will Deliver a Presentation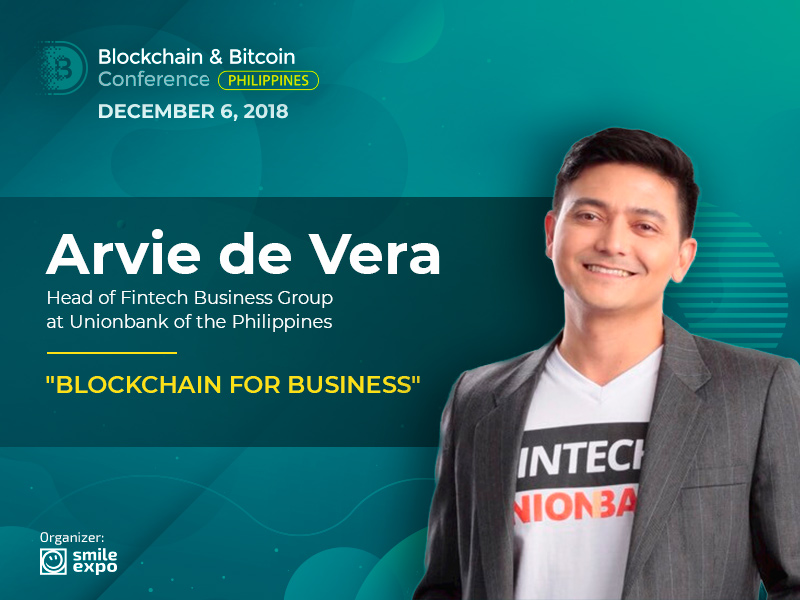 Banking sector was one of the first disrupted by DLT. Currently, DLT is actively used in the fintech sphere and is integrated into the financial operations of numerous businesses.
DLT as a new opportunity for business will be discussed on December 6 at the Blockchain & Bitcoin Conference Philippines. Arvie de Vera, the Head of Fintech at UnionBank, will deliver a presentation covering the most important aspects of the topic.
Key points:
UnionBank's blockchain projects and initiatives;
how DLT is approached by banks;
how corporate enterprises treat DLT.
Arvie de Vera is the expert with the vast professional experience in banking, telecom and new media.
The specialist has worked as a project manager in Citi – multinational financial services company. Then, the expert has joined the Globe Telecom – the large company providing telecom services in the Philippines. At the company, he had the responsibilities of the Media Business development Head.
Currently, the speaker works at UnionBank – one of the largest banks in the Philippines, being ranked 7th in terms of assets.
The bank has already integrated DLT into different internal processes to cut operational costs. For instance, according to the company's President, the bank has over 700 processes to convert into DLT-based ones. Among them there is transfer of funds and opening of the accounts.
The speaker has joined the company as the Business Development Director and led a team of experts to enable financial inclusion in the Philippine market.
Then, he has become the Head of Corporate Product Management at UnionBank, and today, the speaker is the Head of the Fintech Group at the company.
---
Learn more about the use of DLT for businesses and banking sphere from the expert at the conference!
Meet new speakers and key news of the conference