Sky high returns titillate investors looking for quick money – Zachary Kelman about Blockchain & ICO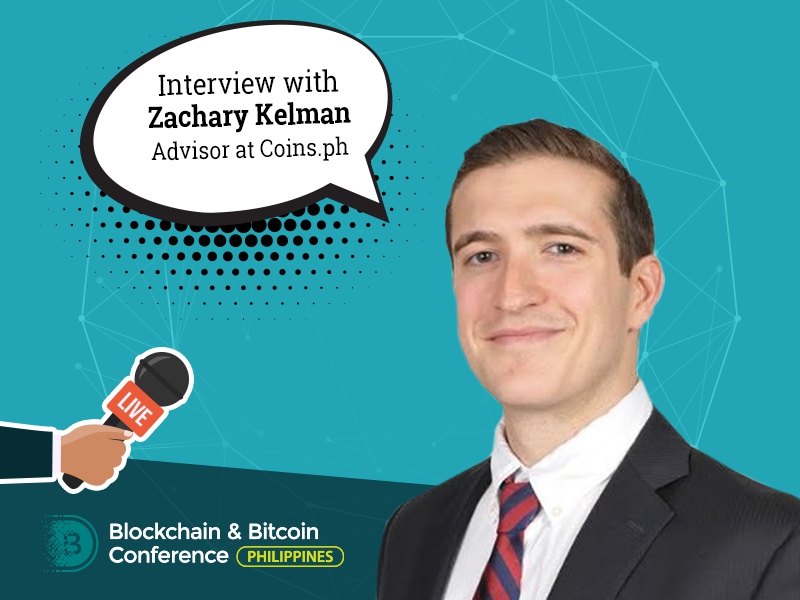 What sky high returns on the Blockchain & ICO market are leading investors and founders to and will 2018 bring crucial legal changes to the crypto community? These questions are answered by Zachary Kelman, Head of Compliance & Legal at Coins.ph (a leading FinTech company in Southeast Asia), speaker of oncoming Blockchain & Bitcoin Conference Philippines.
---
- You have about 10 years of experience in the legal sphere. Tell about the first time you came across the blockchain technology at work.
- I used to review correspondent banking wires at New York banks. I had the opportunity to see how that system works and how inefficient it can be. Wiring the same amount between one pair of countries could cost one or two percent, while the same wire could cost more than ten percent between a different pair. When I discovered Bitcoin in 2013, I immediately recognized the flattening effect that can come from giving everyone the ability to transact internationally without the need for an intermediary.
---
- Zachary, being a lawyer with a working experience in the U. S. and the Philippines, how would you compare the two jurisdictions? Tell the difference between the approach of these countries towards blockchain, ICO, and cryptocurrencies.
- I was in New York, specifically, which has had a unique history in regulating cryptocurrencies. In 2015, New York issued a set of rules designed to regulate the virtual currency industry, focusing on anti-money laundering and security measures similar to those imposed on traditional financial institutions. Thus far, three years have shown this to be a regulatory misstep, as New York has become a cryptocurrency and blockchain innovation backwater, with many firms declining to do business in the state. The Philippines has taken a more forward looking approach through its issuance of virtual currency licenses and in developing a framework for regulating ICOs. I find this very encouraging.
---
- What is your attitude towards the countries that banned ICOs? In your opinion, will they stick to this policy in 2018?
- Outright banning ICOs is, in my view, a bit heavy handed, but I expect many of these countries have their reasons. I imagine these moves are reactions to the sudden emergence of an unregulated investment market, and these regulators are trying to draw a line in the sand to prevent the ICO market from ballooning further. Let's not forget the total value invested in ICOs as of last April was around $300 million, by the end of 2017 that number exploded to north of $3 billion. My expectation is that litigation in the United States will provide additional clarity, particularly regarding the question of what qualifies as a 'utility token' and whether such tokens are subject to U.S. securities oversight. As the jurisprudence matures, I would expect the countries currently banning ICOs to see that they can responsibly mitigate risks while allowing this vibrant form of investment to continue to thrive.
---
- Which country is the friendliest towards the blockchain technology and the best place to register blockchain and cryptocurrency companies?
- A lot of the same considerations go into the formation of cryptocurrency and blockchain companies as would any other company. Such companies are wise to consider the stability and reliability of government, judicial, and financial institutions in a prospective country before forming or operating there. Additionally, they may consider crypto-specific regulatory implications, and it would be wise to be cautious about countries which have already outright banned ICOs or criminalized certain cryptocurrency activities. Countries which have taken friendlier postures towards cryptocurrency include Japan, Estonia, Switzerland, Belarus, and in this region Singapore, the Philippines, and more recently Malaysia.
---
- In your opinion, will 2018 bring crucial legal changes to the blockchain community? If yes, will they bring positive or negative consequences?
- I think it will, and I hope for clarity on securities laws surrounding ICOs, but I have little certainty. More regulatory oversight seems inevitable, but if U.S. regulators act too hastily and disrupt the industry, we could see the rest of the country alienated like New York was after 2015. If, for example, the SEC were to hold that all utility tokens are securities, it would place many existing cryptocurrencies in an awkward position and make the prospect of launching an ICO in the U.S. expensive and unattractive. I suspect US courts and regulators are aware of this and will continue strike a more balanced and incremental approach - targeting deceptions and egregious abuses of 'investor' confidence - as the SEC has done throughout 2017.
---
- Your presentation at Blockchain & Bitcoin Conference Philippines is dedicated to ICO. Tell who it is addressed to more: ICO investors or organizers of campaigns?
- Both. The ICO space has opened up the opportunity to raise capital for innovative projects which may not have otherwise been funded. However, sky high returns have titillated investors looking for quick money, as well as founders seeking short-term gains. To the former, I suggest investing only what you can afford to lose and gaining a deeper understanding of the space and its potential before becoming seriously invested, and to the latter I would suggest that the money you raise may become more a curse than a blessing if you are not serious about executing, do not set up your project in a sound and legally responsible manner, or do not maintain a high level of fiduciary responsibility. Do your homework before putting your money or reputation on the line.
---
- How do you think conferences similar to BBC Philippines influence the regulators' policy towards ICOs and blockchain technology?
- This is an excellent opportunity for regulators to get a sense of the local cryptocurrency and blockchain technology community in the region. The easiest way to determine how to regulate an emerging industry is to meet the people building it and understand the problems they are encountering along the way. Cryptocurrency presents unique regulatory challenges and has seen a wide array of regulatory approaches. I'm encouraged to see more regulators with a steady hand and an open mind.
Subscribe to the news of Blockchain & Bitcoin Conference Philippines on Facebook and Telegram!
Meet new speakers and key news of the conference