Operations on Permissioned Blockchains: Business Owner at Tagcash Mark Vernon Will Discuss the Topic at the Conference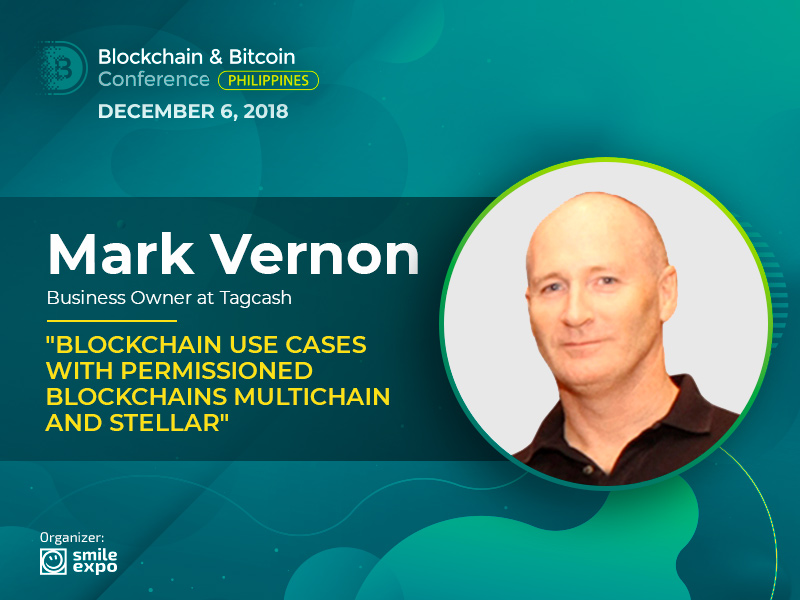 Blockchain can be divided into types: public and private, or permissioned. Two kinds of DLT have different features, as well as advantages and complications.
Permissioned blockchains will be discussed at the Blockchain & Bitcoin Conference Philippines on December 6. Business Owner at Tagcash – Mark Vernon – will address the issue in his presentation and provide use cases with MultiChain and Stellar.
Key points:
equity crowdfunding and secondary stock exchange;
shared KYC;
interbank settlement and API replacement;
international remittance via Stellar;
distributed data storage on chain;
supply chain tracking.
Mark Vernon is the expert in tokenization. His objective is to tokenize fiat, rewards, crypto coins, company shares, and NFTs.
The expert has been working for Zeresoft – the company which he has founded and owned. Company's activity is the investment in IT products, especially in the Seed Stage.
Also, the specialist is the business owner at ProofCore – the company which provides consultations on DLT, assisting with its creation and management. Among the clients of the organization there are government departments, banks, consortiums and individual companies.
More than that, the speaker has founded the Virtual Training Company (VTC). The corporation offers around 1000 courses on various topics covering software. Training categories include animation & 3D, web design and operating systems, to name a few.
The speaker has also been the founder of the other organization – Tagcash, e-money wallets and services provider.
The company integrates DLT from MultiChain and Stellar, and works with crowdfunding, lending, crypto assets and loyalty programs. Tagcash operates under the regulations of The Bangko Sentral ng Pilipinas (BSP) – Philippines' central bank.
---
Learn more about permissioned blockchain from the expert at the conference!
Meet new speakers and key news of the conference