New blockchain platforms and decentralized exchanges: Vlad Sapozhnikov about novelties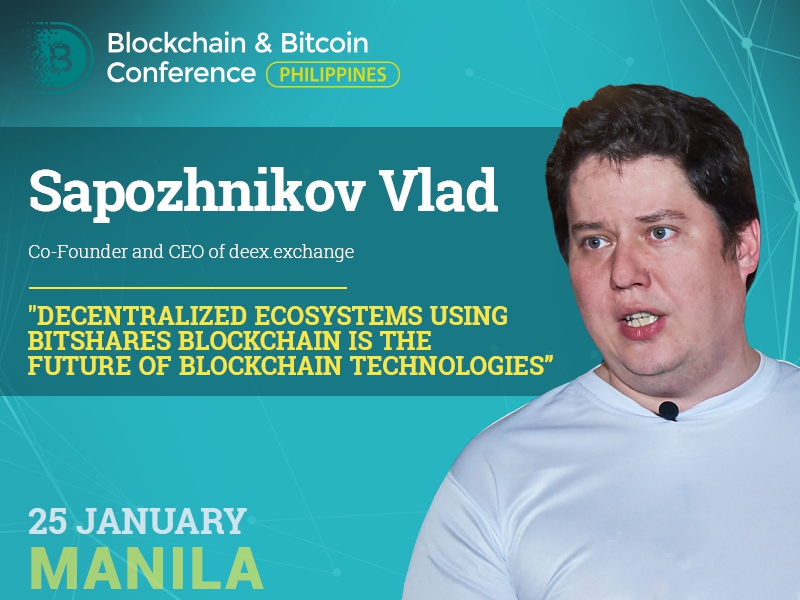 A cryptocurrency exchange invulnerable for hacker attack is a reality! Vlad Sapozhnikov, Co-Founder and CEO of Deex.exchange, will speak at Blockchain & Bitcoin Conference Philippines in order to present a brand-new service for investors and traders. He will reveal special features of the BitShares platform used by the exchange.
The majority of popular cryptocurrency exchanges are centralized but Deex.exchange is based on blockchain. It provides more opportunities for protecting users from hackers: they cannot obtain control over users' wallets, as blockchain resources do not have any data storages.
The BitShares 2.0 platform ensures additional protection of Deex.exchange. The expert will tell the audience about the advantages of the platform and its operation aspects. He will also reveal benefits of their project over other cryptocurrency exchanges and explain why Deex.exchange exceeds them in terms of usability and will be able to provide actual competition to major modern cryptocurrency exchanges in future.
Vlad Sapozhnikov has a Master's degree in finances and is an author of the research paper about the dot-com assessment. During his career, the speaker cooperated with Qiwi, PayPal and Sberbank and later established his own business related to cryptocurrencies and blockchain. Founded in 2017, his project – Deex.exchange – will launch an ICO in January 2018. The exchange raised 3410 ETH within token presale.
Register to Blockchain & Bitcoin Conference Philippines!
Meet new speakers and key news of the conference