Interview with Yuliya Sporysh from CoinIndex: dynamics and weak regulation are advantages of crypto market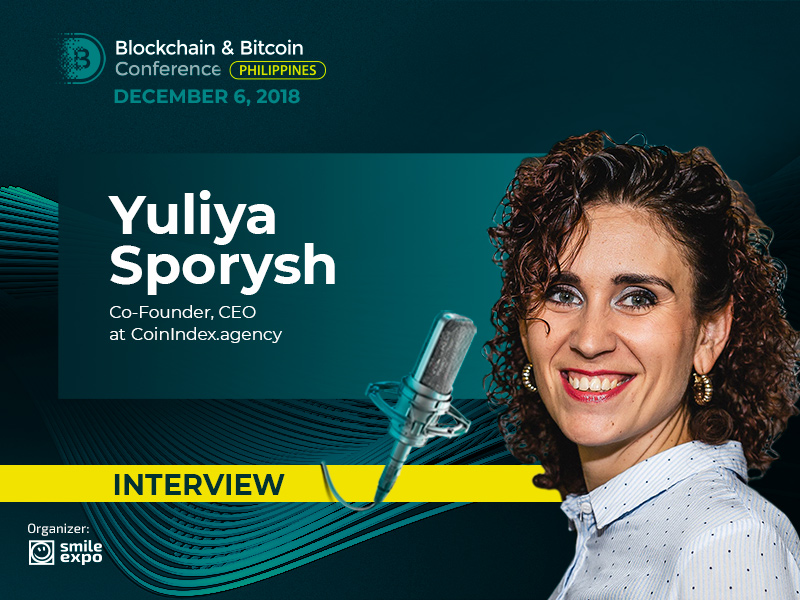 What opportunities does crypto market open up for entrepreneurs and financial analysts? What is the most important in running own crypto business? CEO at CoinIndex analytical agency Yuliya Sporysh addressed these questions during the interview.
Yuliya Sporysh is a seasoned analyst of financial markets, Co-Founder and CEO at CoinIndex analytical agency. For seven years, she was CEO at the Ukrainian subsidiary TRData fintech company.
In her interview for Blockchain & Bitcoin Conference Philippines, Yuliya told about her way of creation and development of own business that is directly connected to blockchain and cryptocurrencies. She also explained why in her opinion this industry is prospective and how regulations would affect the crypto market.
Interviewer: Blockchain & Bitcoin Conference Philippines (ВCP)
Respondent: Yuliya Sporysh (Y.S.)
BCP: Could you describe your shift to the cryptocurrency market? How long have you been engaged in the industry and what did you begin with?
Y.S.: Everything is pretty simple. Within the last seven years, I obtained a position of CEO at TRData, a fintech company that is correspondingly divided into the departments of finance and development. It goes without saying that my developers were the first to share the knowledge of bitcoin with me a few years ago, right when it created a buzz among the community. It was like hey, Yuliya, we've got something to show you! Thus, I heard about blockchain and cryptocurrencies and then started learning everything about the phenomenon.
At some time, traditional markets appeared to be in the state of stagnation with no signs of actively developing business. Meanwhile, another universe with a fast-paced reality was thriving at hand, which attracted our attention. In addition, seven years of working at one place is a pretty long period characterized by some kind of professional burnout and habits. I was willing to meet new challenges, and blockchain turned out to be such a direction I would like to try.
BCP: How do you think, what are the advantages of cryptocurrencies over traditional financial markets?
Y.S.: Traditional financial markets are toughly regulated. There are lots of great opportunities of running a business but the authorities of a certain country or global regulators prohibit many aspects. For example, in Ukraine, ordinary NDF contracts are illegal, so that you cannot sign them inside the country. Therefore, cryptocurrency would offer more diversified financial tools in terms of digital assets.
The main advantage lies in the opportunity to move further. It is not under rough control, so one can avail of the opportunity to use all the existing and synthetic tools offered by a digital asset. Therefore, its strengths are dynamics and weak regulation.
BCP: In your point of view, will the crypto market be regulated in the same way traditional financial markets are?
Y.S.: Of course, the legislative framework will take its toll. However, I cannot say that we have to anticipate the regulation of traditional markets to be imposed on the crypto market. Let's figure it out in the following way: we have a five-year period to work with no problems. With times, we will see the big picture. ICO, KYC and AML are currently the main focus of regulators. That's it. What is more, there aren't any laws on crypto exchange launching. There exist several jurisdictions that allow to make it real. So, while the whole world remains in limbo, crypto enthusiasts have time to create new products.
BCP: How did you come up with an idea of establishing an index analytical agency? How did you understand that cryptocurrency indices would become highly demanded?
Y.S.: Being deeply involved in traditional finance, I worked with banks and investment companies. All of them have reliability rankings – a country, a bank, a company. It was clear that cryptocurrency would follow the steps of conventional finance. Self-regulation is currently apparent on the market of ICO projects that have own rankings.
The question is whether we can trust them, whether they can be sold, whether there are a couple of proven providers that give an unbiased assessment of a project. Both those who buy tokens directly and those who use an exchange would like to work with a reliable project and see the prospects of the segment.
There are no resources apart from CoinMarketCap that remains the main source of analysis in spite of its downsides. There is no shortage of tools. In fact, we were analyzing the market: current state of things and our wishes. First of all, we marked the absence of a single trusted source calculating indices and assessing the trends in the segments. That's a short story of CoinIndex.
BCP: What difficulties did you face when developing the agency? What is their main point and how do you solve them?
Y.S.: For us, the main problem is a short life of projects. Our index basket is constantly rebalanced: sometimes you have eight coins, but in three months, only four of them are available. It happens. That means that four projects failed and you have to exclude them from the basket, which exposes both advantages and disadvantages.
First, it's difficult to track all the coins in the index. However, the pro lies in a possibility to follow the development of projects from their introduction to disappearance, everything they went through and working principles.
Second, the scale of the process changes. Previously we had a thousand tokens in a base, and their current number went up to about three thousand. Also, the amount of data to store and process is growing. However, our indices can be audited. One can always have a look at an index, come back and find the reason for such a tendency.
It enables full transparency and confidence. Additionally, we collect data directly from exchanges. What is more, our company can estimate real traded value and prices of completed transactions.
BCP: How do you think, what is the most important in running own crypto business?
Y.S.: Do not build up hopes, in such a way you will prevent disappointment. In fact, I can provide examples of many projects that were prospective at early stages, did not plan the bright future and hired tons of people promising the moon. In three-six months, they faced the music and had to give people a sack. Perhaps, the most important decision would be to reject the idea of creating a team with many staff and use the potential of each employee to its fullest.
Another thing that you have to understand: everything changes at breakneck speed. The current state of things may change dramatically in a month. You have to be able to rapidly adapt to everything, which is the most difficult part of such a business – it keeps you on the edge of your seat. Sometimes a regulator comes out with news, sometimes the market drops, or protocol developers announce bad news. That is why I would like to give a piece of advice to everybody intending to launch own business: think twice before dealing with that.
BCP: As CoinIndex CEO, which important decisions have you made?
Y.S.: I reckon that we are young enough and everything is ahead. At least, the most important thing was to understand that the time came to leave the previous project. You know, projects are like children – they grow up. It was time to say goodbye and begin a new chapter, which is the most difficult. If a decision is made, there is no turning back.
BCP: At our conference in Kyiv, you told about the market of derivatives. It's a brand new phenomenon on the cryptocurrency market that is still to be properly investigated by regulators and investors. Should we be careful of speculations?
Y.S.: For the crypto market, derivatives are something new. However, in December, Chicago Mercantile Exchange introduced Bitcoin futures that in fact are derivatives we all are familiar with. My presentation was dedicated not only to the development of the market of futures, options, and CFD. I revealed its nature, purpose and who is going to use it as a protection tool -i.e. hedge risks or speculate.
I wouldn't say that speculation brings only damages because new tools and derivatives allow us to attract more fiat in crypto. Derivatives help make your risks secure.
---
To find out more about prospects of blockchain and cryptocurrencies, join us at the specified event Blockchain & Bitcoin Conference Philippines scheduled for December 6 in Manila.
Meet new speakers and key news of the conference