Increasing Trust Between Banks and Companies: Presentation from Mario Jordan (Magellan) Fetalino III, Founder & CEO at Acudeen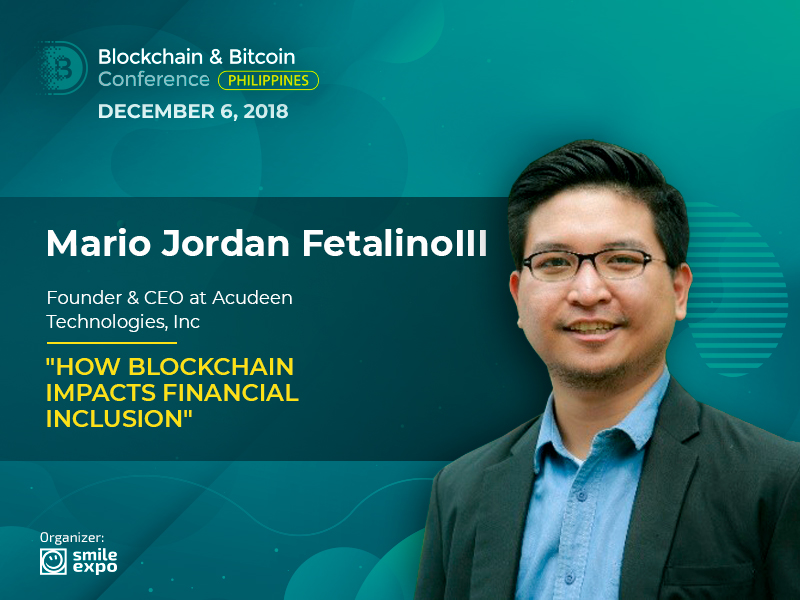 Despite the fact that financial institutions have enough liquidity and money to lend, one of the biggest reasons why they hesitate is the lack of trust towards SMEs. This situation may prevent businesses from getting enough investments for their development.
The solution will be discussed on December 6, at the Blockchain & Bitcoin Conference Philippines. The founder & CEO at Acudeen Technologies, Inc. Mario Jordan (Magellan) Fetalino III will provide an explanation how DLT impacts financial inclusion.
Key points:
lack of trust towards SMEs;
problems with data and information about SMEs;
how DLT can connect businesses and financial institutions.
Mario Jordan "Magellan" Fetalino III has established Acudeen Technologies, Inc., where he currently has a position of CEO. The company helps SMEs to get their receivables financed.
The organization provides accessible financing to underbanked Philippine-based SMEs – it connects those who sell receivables with investors. Today, the company is present in 2 markets – Philippines and Myanmar.
Moreover, the expert is the Member Board of Trustee of the FinTechAlliance.ph and a Board Director of the Philippine Association for Digital Commerce and Decentralised Industries (PADCDI). The aim of the organization is to encourage the DLT promotion and adoption to increase the amount of innovations.
Apart from that, the specialist is one of the partners of the Philippine-based Original Pitch Venture Capital firm.
---
Learn more about the financial inclusion from crypto expert at the event!
Meet new speakers and key news of the conference