"I wanted to change the status quo with blockchain" - The Story of Arifa Khan, Founder at Himalaya Labs & Fintech Storm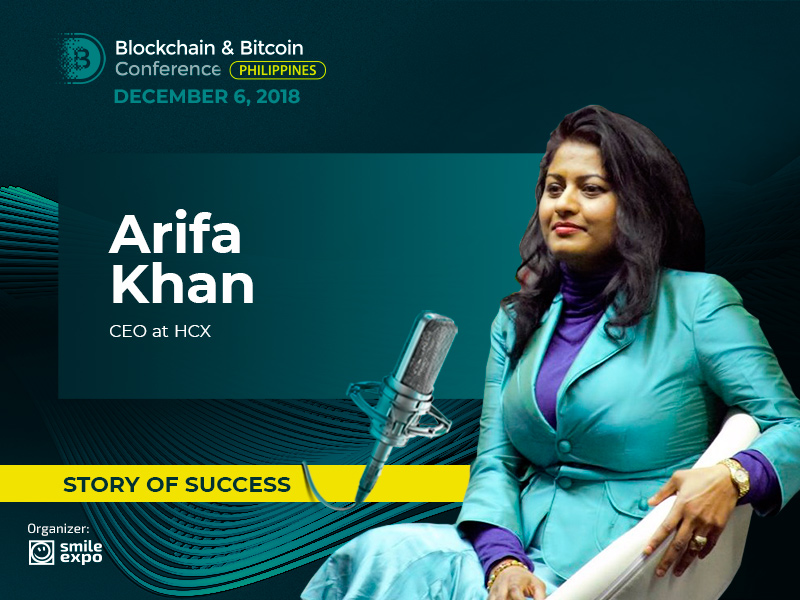 She was one of the first to talk about blockchain and cryptocurrencies. She became an early blockchain evangelist. She was the ambassador at India's first Blockchain Summit where she cooperated with Vitalik Buterin. She discovered the full DLT potential and established her own company to revolutionize traditional capital markets. Today, she is the blockchain industry thought leader and the partner at Ethereum Foundation. She is the Founder at Himalaya Labs & Fintech Storm – Arifa Khan.
We have talked with Arifa about the beginning of her way in exploring blockchain, partnership with Vitalik Buterin, establishment of Himalaya Labs and her cooperation with Indian Government.
"Blockchain developments gave me motivation from the very beginning"
I have been engaging with Fintech startups from 2012, and I started to take interest in blockchain since 2014. I was hosting the first blockchain roundtables in London where industry pioneers would get together, discuss issues and educate audiences.
It was very early days, and prior to the launch of Ethereum, there were no smart contract applications, but we did have real businesses built around blockchain use cases such as insurance claims, supply chain finance, authentication of goods such as pharmaceuticals, diamonds, etc.
Of all the Fintech areas I explored, blockchain caught my attention as a field having the most potential. True to my prediction, the field started having exponential growth and a lot of technical developments to keep pace with, so it kept me stimulated and riveted.
"My education played an important role in discovering blockchain"
My background of an engineer with a technology, mathematics and computer science certainly helped me in exploring the new technology. As I started to go deeper into the tech and reading white papers which were bordering on new breakthroughs, the familiarity and comfort with highly sophisticated and tough-to-grasp concepts certainly helped me stay the course. Otherwise it would be too intimidating and incomprehensible to an average newcomer.
"I was a pioneer in hosting blockchain conferences"
As I was an early evangelist and an eager learner, I started hosting smart contract workshops around the world. It helped me forge important relationships with crypto geniuses like Vitalik Buterin (Ethereum), Nick Szabo (Global Financial Access) and Brendan Blumer (EOS) way before they became unicorns.
Ethereum price was around $8 when I first invited Vitalik to India and hosted India's first ever Blockchain Summit in Delhi. Now there are hundreds of blockchain conferences. But I was the first to host them, publish articles on cryptocurrencies in mainstream media and pitch to Chief Ministers of Governments in India. Since I am a pioneer, it established me as a thought leader in the space.
"I invited Vitalik Buterin to India's Blockchain Summit, discovered his potential and got him covered in media"
My work as a partner at Ethereum Foundation began in 2016 when I invited Vitalik to India. I was acting as cryptocurrencies ambassador in India when I hosted India's first ever Blockchain Summit. During that same trip Vitalik and I visited Indian Institutes of Technology, gave lectures on cryptocurrencies and met audiences around India such as in Hyderabad and Mumbai.
Remember that in those early days, there was a lot of negative press and speculations about bitcoin from established quarters. I spotted Vitalik's potential and genius on that trip and hailed him as the future Steve Jobs. I totally believed in what he had to offer to the world and acted as Vitalik's PR manager and got him covered in mainstream media such as CNBC.
We hosted Ethereum hackathons and workshops some of which Vitalik adjudged and where he delivered himself in person. In May 2017, we hosted Ethereum India Summit in Mumbai once again with Vitalik, where we continued the evangelisation. We have now created Meetup groups across India. There is more we need to do in terms of outreach and education.
"I realized that blockchain's possibilities are left unnoticed"
Still, at that time, I saw that people were coming up with insignificant applications of blockchain. No one was building any real infrastructure that real industries can use. After Bitcoin, Ethereum was the only substantial landmark in the evolution of blockchain, and I saw that the technology's true potential was largely overlooked and uncomprehended.
Also, people at big institutions with vested interests were keeping the true potential of this tech under wraps and out of the reach of common man. Most crypto founders are technical geeks and lacked the understanding of how real economy worked, such as capital markets.
People were doing ICOs in a haste and creating fast and easy Dapps on Ethereum. Most ICOs succeeded in garnering large funds because the subscribers did not have too many options and were picking from among the available teams and limited opportunities they were addressing.
"I wanted to give freedom to entrepreneurs and make capital markets democratic"
My unique background in investment banking and capital markets, combined with my early exposure to blockchain genius such as Vitalik inspired me to address one of the largest industries - capital markets - which is estimated at $86 trillion compared to $800 billion size of the entire crypto economy at its peak. My finance specialisation at Wharton School of Business, and my investment banking background with marquee Swiss banks such as Credit Suisse and UBS gave me a unique perspective on what aspects of investment banking could be trust-minimised, rendered frictionless, simpler and more democratic.
As opposed to other tech founders, who want to play nice to banks and big institutions, get their funding, and act within the existing ecosystem and previously well-defined roles, I wanted to change the status quo. I felt that in the current technology stack, there is no need to respect the middlemen and their important roles in the capital raising process.
I wanted to minimise the control and fees paid to middlemen and give every entrepreneur a fair chance of success through access to global capital and global investors. I wanted to give entrepreneurs the freedom to bypass some of the gatekeepers and privileged classes such as Venture Capital funds, investment banks. I wanted to pay a tribute to crypto genius Satoshi Nakamoto and democratise capital raising. I wanted to give Vitalik the best use case for smart contracts – a smart contract run capital markets ecosystem.
"For Himalaya Labs, I wrote the first white paper on capital markets decentralization in the world"
I had also worked with Government of India on International Bond Financing and sought for the best financing terms around the globe, therefore, well versed with the friction points in dealing with investment banks and wanted to create a superior public financing Platform.
So, I wrote the initial concept paper of Himalaya Labs on "Decentralised Global Capital Markets Platform" in June 2017 and showed it to Vitalik. This was the world's first white paper on how to issue security tokens, and how to decentralise capital markets.
At that time, blockchain industry did not have solutions for scaling and performance of decentralised exchanges. Vitalik authored the Plasma paper to solve this issue sometime in August 2017. So, at the company, we are creating a stock exchange and an investment bank combined on a technology stack making use of smart contracts, AI and knowledge of how capital markets institutions function.
"My company plans to create the first infrastructure for capital markets"
At Himalaya Labs, we want to replicate IPOs on blockchain. I believe that HCX is the third landmark in the history of cryptocurrencies after bitcoin and Ethereum, because we aim to create the world's first real infrastructure for financial services and capital markets industry through an Initial Security Token Issuance Platform.
We are working on some initial rails such as UX / UI and some smart contract functionality. Currently, we are on private fundraising stage, and also work on setting up legal entities and obtaining approvals in Switzerland. We can release the initial platform by end of 2018.
"I cooperate with the Indian Government to show how blockchain can improve state economy"
Subsequent to my publishing of Himalaya White Paper, I presented it to India's Chief Minister of Maharashtra and his team, and to ex-Chairman of SEBI, the Indian capital markets regulator. Undoubtedly, this is a landmark in the history of global capital markets, and therefore many global thought leaders are watching this space to see what and how we will deliver for redeeming the common entrepreneur.
I also presented an action plan for Blockchain implementation in Andra Pradeep state to AP Chief Minister Chandra Babu Naidu on sidelines of World Economic Forum 2017, soon after which he implemented my ideas by setting up a special committee and allocating funds to focus on attracting and building a blockchain ecosystem.
Also, coming back to my early cooperation with the Government of India regarding blockchain issues, I have tried to educate the decision makers at chief Minister level on how blockchain can give the state economies a big boost in the arm.
As for today, we have just finished a Europe Roadshow across London, Paris, Zurich, Berlin and will tour Asia for fundraising with my company. As a matter of fact, I have travelled the world over the past 12 months evangelising the concept of security tokens, as our project invented the concept and the mechanics of security tokens.
---
Arifa Khan will be a speaker at the Blockchain & Bitcoin Conference Philippines – don't miss a chance to meet her at the event!
Meet new speakers and key news of the conference