How to Launch a Successful Token Sale? Advice from VOX CEO Stefano Virgilli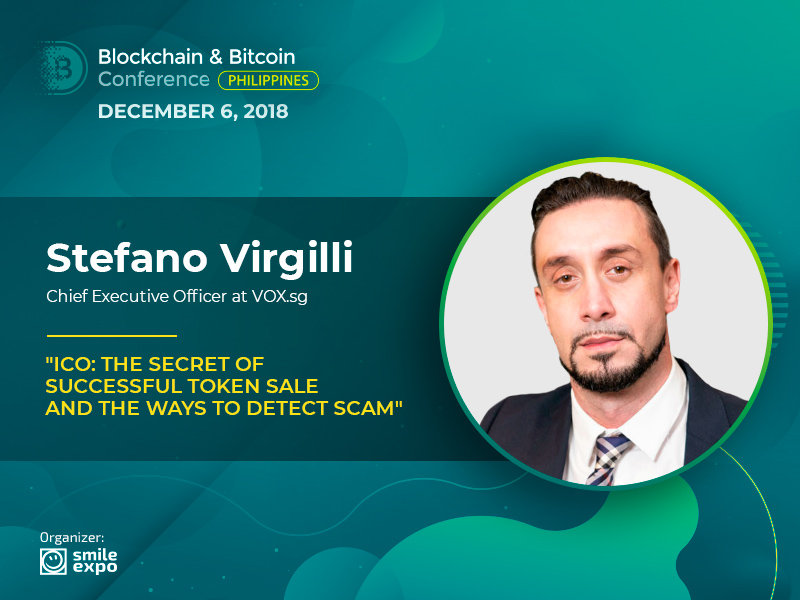 Launching token sales is the popular activity among DLT-based startups. This way, they bring their ideas to the world and gather funds for further development. But how to create a token sale which will not fail and how to detect a scam?
The question will be answered at the Blockchain & Bitcoin Conference Philippines on December 6. CEO at VOX, Stefano Virgilli, will become a speaker at the event and deliver a presentation titled "ICO: The secret of successful token sale and the ways to detect scam."
Key points:
what defines an ICO scam;
why most ICOs are failing anyway;
the future of STO;
five criteria for success;
introducing Non-Tradable Utility Tokens (NTUT).
Stefano Virgilli is an Italian entrepreneur and ICO consultant. He has the business operation experience in European countries, as well as in Southeast Asia, Middle East and Africa.
The speaker is also a CEO at VOX.sg. The company provides consultations regarding ICOs and DLT projects. Moreover, the organization is working on the development of STO.
Apart from that, the speaker has a position of CCO at the Swiss crypto trading platform Bistox Exchange. Also, the expert is creating business strategies for such organizations as Gem4me Market Space and Invictus in Singapore.
Currently, he is also the Chief Operating Officer at Pocket Money – the company which creates the global marketplace for lenders and borrowers.
The specialist is a TEDx speaker and Adobe technologies trainer. He has also written a book about innovation approach to design – "The Promise of Empty Spaces." At this moment, he keeps working on his second book about the role of culture and perception in business development.
---
Learn more about successful token sales from the expert at the conference!
Meet new speakers and key news of the conference