Discussion of Crypto Contracts: Partner at IPLA Lorybeth Baldrias-Serrano Will Become a Participant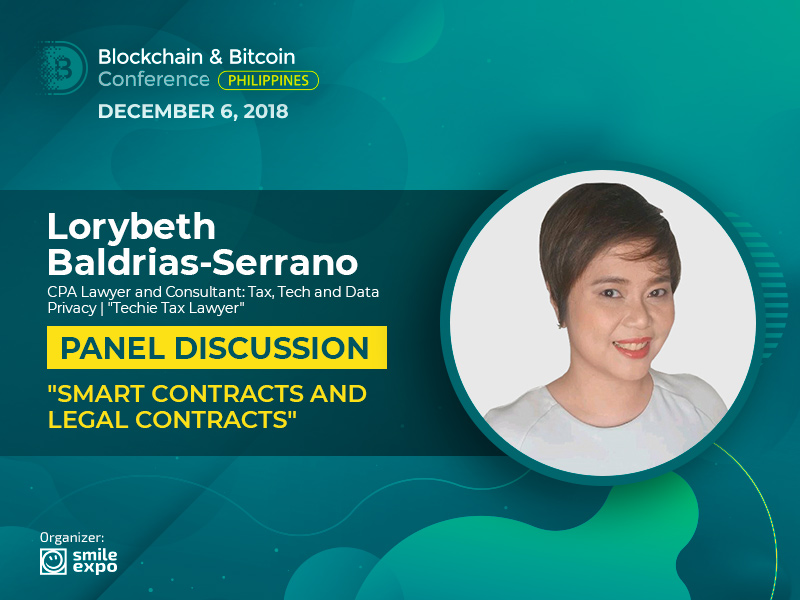 Smart contracts belong to the improved type of documents where the participants communicate with each other and make deals directly. However, to integrate crypto contracts into business, it is important to know the legal aspects regarding the sphere.
The topic will be presented at the Blockchain & Bitcoin Conference Philippines on December 6. Partner at Insights Philippines Legal Advisors (IPLA), Lorybeth Baldrias-Serrano, will take part in the panel discussion "Smart Contracts and Legal Contracts."
Key points of the discussion:
how DLT influences taxation;
legal aspects of ICOs and smart contracts;
GDPR compliance;
possible future regulations.
Lorybeth Baldrias-Serrano is the lawyer specializing in data privacy and a tax consultant. She has 16 years of cumulative experience in accounting, taxation management and commercial law across various industries ranging from FMCG, fintech and oil & gas.
Among the clients of the expert, there have been many well-known global remittance companies.
She has provided consultancy services to clients on structuring of foreign investment vehicles, restructuring of organizations and transactions, tax assessments and refunds, as well as estate planning and customs and tariff matters.
She has also been a tax manager at such organizations as the global energy company Shell and P&G – the world's largest consumer goods corporation. The specialist also handled tax matters for MasterCard transactions.
Currently, the speaker is the partner at Insights Philippines Legal Advisors (IPLA) – a member firm of the ZICO Law Network, which is present in 18 cities across all 10 ASEAN countries. At IPLA, the specialist focuses on tax & trade, as well as on data privacy & tech.
---
Learn more about crypto contracts from the DLT expert at the event!
Meet new speakers and key news of the conference