Co-Founder of PDAX Yang Yang Zhang Will Become a Speaker at the Conference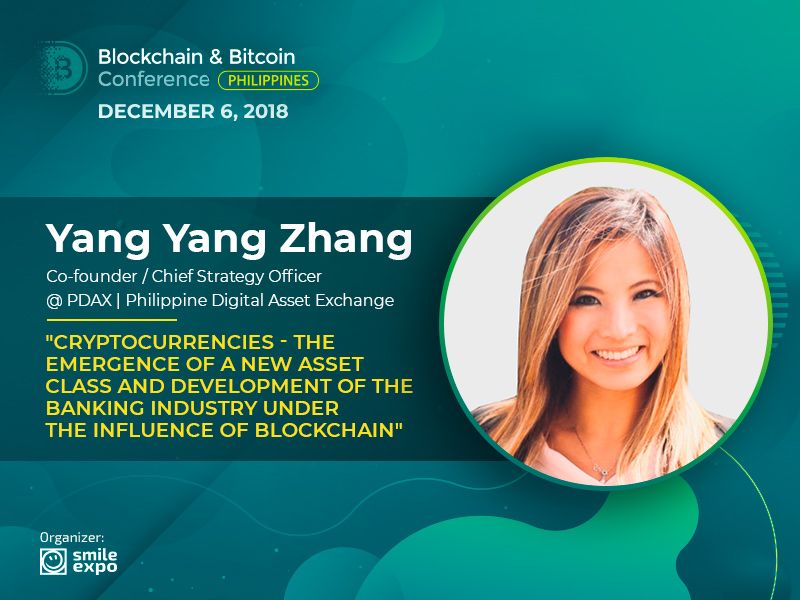 Financial industry is the first one being disrupted by the DLT with the appearance of digital currencies. Today, the technology is significantly transforming the banking sector.
The issue will be addressed at Blockchain & Bitcoin Conference Philippines on December 6. The Co-founder and Chief Strategy Officer at the Philippine Digital Asset Exchange (PDAX) Yang Yang Zhang will talk about the emergence of a new asset class and development of the banking industry under the influence of blockchain.
Yang Yang Zhang is the expert in coding and disruptive technologies with the MIT computer science education.
She has worked as the CMO at BKT – a global environmental tech company where she has led strategy for its NASDAQ IPO.
Expert has also founded Y2 Consulting – a consulting firm specializing in global business development and technology-based scaling. Today, she has a position of the Director at the company.
More than that, the speaker is one of the founders and Chief Strategy Officer at PDAX – Philippine-based crypto exchange. The platform has recently received its VCE license from the The Bangko Sentral ng Pilipinas (BSP) in September 2018.
PDAX allows the citizens to trade crypto coins, utility tokens and other digital assets. It is possible to trade BTC, BCH, ETH, LTC and XRP with the national currency of the country – Philippine peso. The exchange is now focusing on adding two more coins for trading.
---
Learn more about DLT and crypto coins from the expert at the conference!
Meet new speakers and key news of the conference