Co-Founder & CEO at CoinIndex.agency Yuliya Sporysh Will Talk About Smart Contracts During the Panel Discussion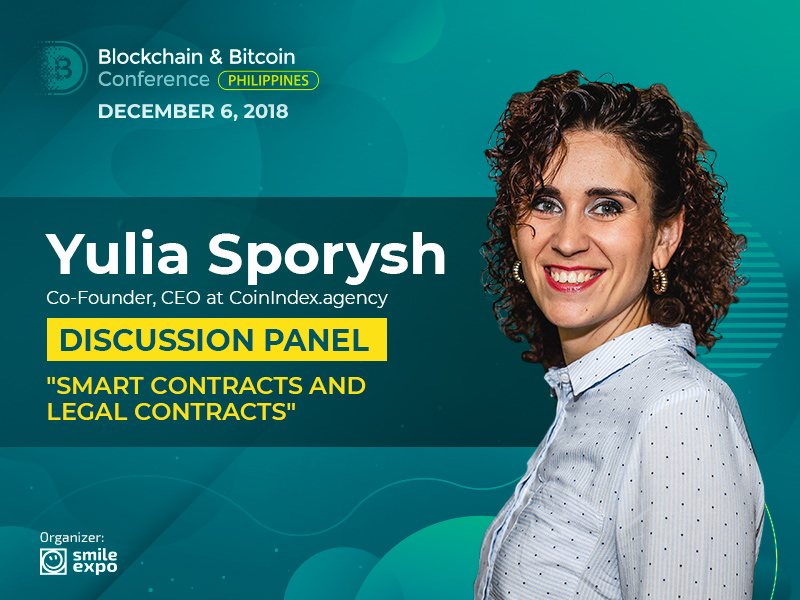 Today, smart contracts are used in various sectors to eliminate third parties and ensure trust between deals' participants. But can they fully substitute the traditional legal contracts?
The question will be answered at the Blockchain & Bitcoin Conference Philippines on December 6. Co-Founder & CEO at CoinIndex.agency Yuliya Sporysh will take part in the panel discussion "Smart Contracts and Legal Contracts." She will present the most popular use cases of smart contracts and talk about the crypto finance and derivatives.
Yuliya Sporysh is the fintech and DLT expert. She has been working within a variety of commercial environments including marketing research, IT development and finance for 15 years.
Moreover, she is specializing in B2B sales and project management as well as in building a protocol for crypto derivatives and developing crypto indices.
The expert has been one of the founders of CoinIndex.agency, where she currently has the position of CEO.
CoinIndex.agency is the information and analytical index platform for market professionals. It covers more than 1,600 coins and tokens and provides 160 indices comprising of 8 groups.
Apart from that, the expert has the experience of working in the financial technology company TRDATA as the Business Development Director and CEO. The organization provides the communication platform for traders as well as real-time data, news and analytics.
While developing business strategies at the company, the specialist was dealing with marketing and PR, supporting existing customers and attracting new ones.
---
Learn more about the work of crypto contracts from the expert at the conference!
Meet new speakers and key news of the conference