Bitcoin Is a Good Replacement for Gold – Luis Buenaventura, CTO at BloomSolutions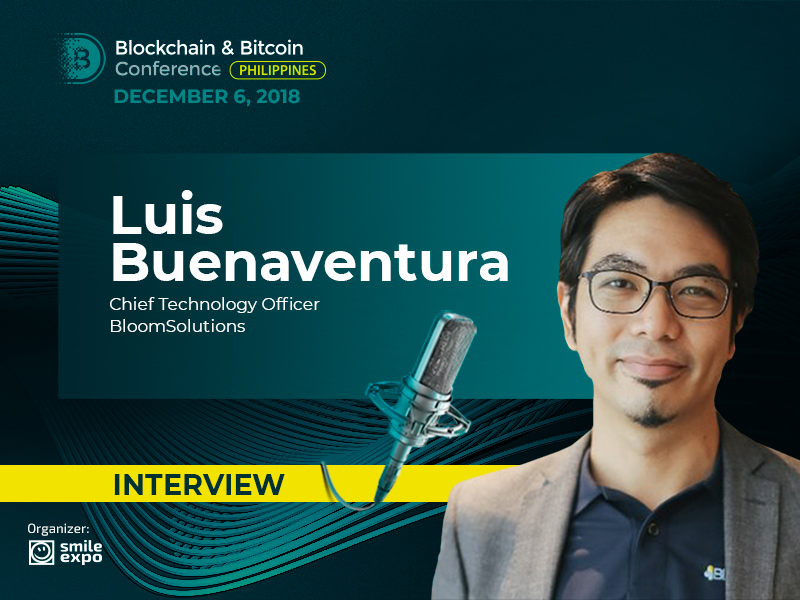 Anonymous cryptocurrencies will always be useful, believes Luis Bunaventura, CTO at BloomSolutions.
Luis Buenaventura is a fintech entrepreneur and an author of the "Reinventing Remittances with Bitcoin" book. We have talked with the expert about crypto expansion, DLT regulations and his favorite crypto coins.
"Cryptocurrencies become part of our daily lives"
I think that digital coins enter our daily lives naturally. Remember the natural hype around cryptocurrencies in 2017, when prices were increasing. No marketing could have done that.
BTC is discussed on TV, on Bloomberg, on Amazon BC almost every hour now. This is definitely what attracts new people to the market and investments to BTC.
"Good news: the cryptocurrency laws actually exist"
Countries regulate cryptocurrencies: there are laws for digital money exchanges and for DLT-based companies. In the Philippines, there are certainly guidelines for that released by our Central Bank. So, if you are a remittance company which intends to utilize crypto, there are specific things you must do in order to be compliant with the law.
But the good news is that the law actually exists. So, it's not just the Philippines, it's in Japan, in South Korea, and in a couple of other countries. I think that over the next few years, many more countries will just follow it. Cryptocurrency is just a thing that companies need to be able to use in a legitimate fashion.
"Bitcoin will be a genuine replacement for gold"
Personally, I like BTC. I am a bit of maximalist in the sense that I think BTC is the cryptocurrency that will matter the most in the long run.
Even if they say that it's not as fast or sometimes transactions are expensive, I think it will eventually prove itself to be a genuine replacement for gold. This will be a common vehicle for investment and a store value for a lot of people who don't have access to gold.
"Anonymous cryptocurrency is useful in certain situations"
Talking about other digital coins that I like, I would mention Monero because it specializes in anonymity and I think it will always be useful. And that's why I like Monero a lot.
As for others, I certainly like Stellar but not necessarily because it's crypto. I like the Stellar blockchain because it's a specialized blockchain for money transfers. My company does a lot of work with the Stellar Foundation, and we've spent quite a lot of engineering hours helping Stellar to improve their product.
Luis Buenaventura will be a speaker at the Blockchain & Bitcoin Conference Philippines on December 6. He will deliver the presentation "Fintech application in Southeast Asia."
---
Learn more about DLT and crypto from the expert at the conference!
Meet new speakers and key news of the conference