Bitcoin, Blockchain, ICO: How does it all work? Meet Investor and Innovator Zach Piester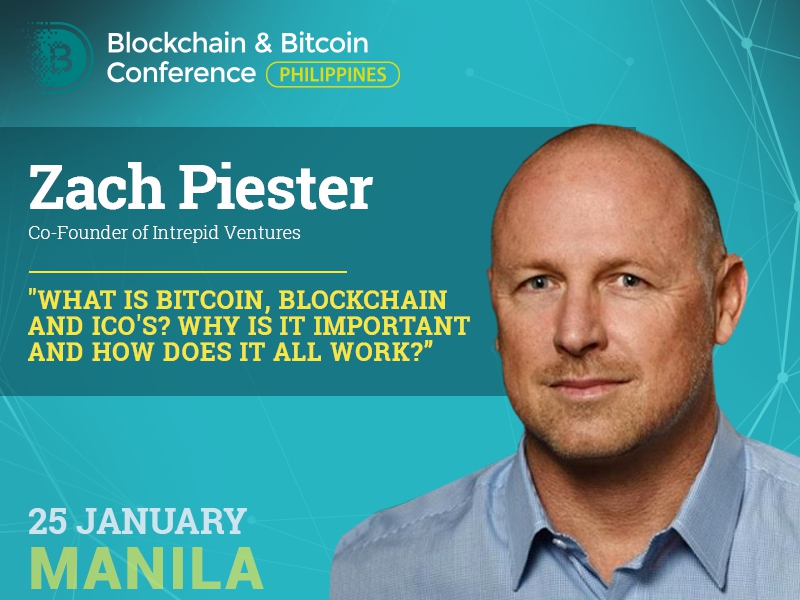 "Blockchain is a hot topic around the world these days, yet for many, the technology remains an elusive concept. Balance this with Bitcoin mania, an over hyped ecosystem that's all noise, and it's impossible to cut through what's real, what's important and why you should be both curious and afraid," says the headliner of Blockchain & Bitcoin Conference Philippines, venture investor Zach Piester.
Come along and join him to get a deep understanding on: What is Bitcoin, Blockchain and ICOs? Why is it important and how does it all work?
We'll explore in simple and easy to understand terms:
will the blockchain transform the Internet & the global economy or is it merely a fad?
what are Initial Coin Offerings (ICOs) and other investment schemes?
should you invest in ICO?
Zach Piester is Chief Development Officer at Intrepid Venture, venture development company. Early stage investor in emerging technologies e.g. Blockchains, DLT, AI, IoT, Data & Analytics, Digital Health. He is deeply involved in the organizational design and growth of a variety of FinTech, InsurTech, & non-financial blockchain, distributed ledger, and emerging technology companies across Asia. Mr. Piester helps Fortune 500 companies leverage the innovation of startup disruptors in blockchain, fintech, distributed ledger & emerging technologies.
Take your ticket to join Zach Piester at Blockchain & Bitcoin Conference!
Meet new speakers and key news of the conference