Best Cryptocurrency Wallets in the Philippines: Where to Store BTCs and Altcoins?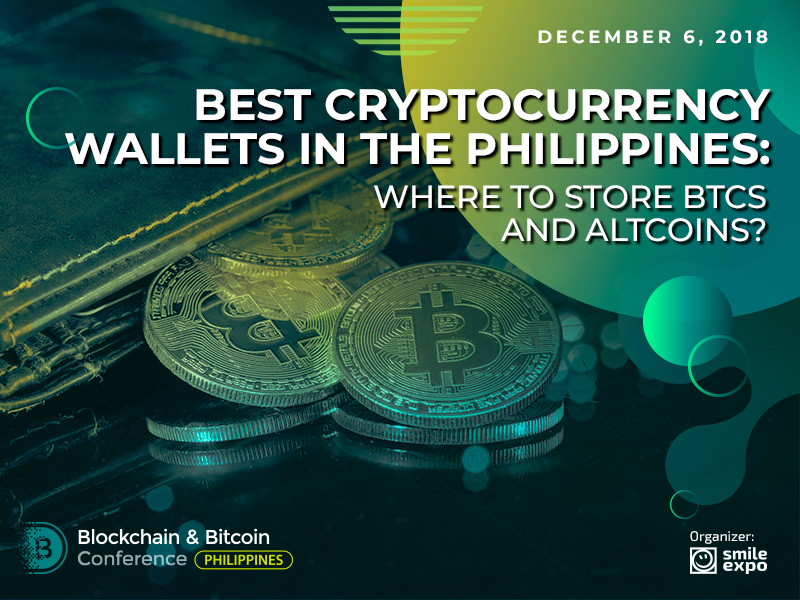 The Philippines is the well-developed country regarding DLT and crypto coins. It has numerous startups working with the technology, its own digital currency ManilaCoin and various crypto wallets of all kinds to store digital coins. Let's discover what wallets exist in the Philippines and where to store BTCs and altcoins in the country?
How to Get a Cryptocurrency Wallet in the Philippines?
As the Philippines pays a lot of attention to DLT development, it is possible to get any kind of crypto wallet there.
Filipinos can get hardware wallets. These ones are very secure as wallet keys are stored offline. To get such a wallet, it is only needed to buy a separate hardware device.
The other choice for population of the Philippines are the software wallets. Among them, it is possible to choose desktop ones which get downloaded and installed on PCs.
Software wallets also include online ways of storing money. These wallets work on the cloud and can be accessed from any device.
Where to Store BTCs in the Philippines – Best Wallets
The Philippines provides a big amount of wallets for storing BTCs. The Philippines-based ones are Coins.ph and Bitbit.cash.
Coins.ph
Coins.ph is a platform founded in the Philippines in 2014 and offering various financial services. It provides a mobile wallet where one can make online payments, buy digital currencies, pay bills and buy game credits.
The wallet is officially recognized by the country's Central Bank – Bangko Sentral ng Pilipinas (BSP). The business is legal and has a licence to operate.
The wallet has BTC, BCH and ETH listed. It is used by over 5 million people and is available on web, Android and iOS.
Bitbit.cash
The online wallet allows making fast transactions and paying bills instantly from the mobile phone.
More than that, it tries to solve the problem of price volatility by keeping funds in peso. With Bitbit.cash, it is possible to hold BTCs to increase its peso value, and it is also easy to convert BTCs to peso and back by several clicks.
The platform is officially recognized by BSP as well, therefore, it works and presents its services legally.
Besides, there is a possibility to sign in to the wallet via an account on BuyBitcoin.ph, the Philippines-based platform for getting BTCs. As it is not possible to buy BTCs through the wallet, it is convenient to make a connection between these two platforms.
Blockchain
It is a platform available for Filipinos to store and send BTCs. The access to private keys is only available to coins holders, so the Blockchain provides the high level of security.
Cryptocurrency Wallets for Specific Coins
For Filipinos who want to store various altcoins apart from BTC, the Philippines also provides a big choice of different ways.
Abra
Abra is headquartered in Silicon Valley and it also has an office in Manila. The platform offers to buy, store and invest in crypto coins, and it has 28 different digital coins listed. There are such currencies as BTC, ETH, BCH, XRP, LTC, NEO, ADA, XMR and DASH.
Abra provides a BTC-based multi-signature wallet ensuring that the value of the digital coin stays fixed to the amount of ETH or fiat currency that the consumer wishes to hold – it is called a synthetic currency.
LiteVault
LiteVault is an online wallet service offering the storage of LTCs. The coins are secured as only the user has access to private keys.
When LTCs are sent via LiteVault, the private keys in the browser memory are used to sign transactions. The crafted transaction is posted to the server as a hash which is not possible to modify.
Coinbase
Coinbase is an online wallet used by Filipinos, however, trading is an unavailable service in the country.
Coinbase allows to store BTC, BCH, LTC and ETH. Utilizing the biometric authentication technology, the wallet ensures high security of the stored coins.
---
Digital coins and blockchain technology will be discussed at the Blockchain & Bitcoin Conference Philippines.
More details about the event and registration are on the official website of the conference.
Meet new speakers and key news of the conference